Erica Peachey's Practice
Erica Peachey is a Consultant in Animal Behaviour, based in West Kirby.  Kim Hope is her Associate.  The practice, established in 1990, is celebrating its 25th year helping companion animals and their owners to build better relationships. We specialise in the diagnosis, treatment and management of behavioural problems in companion animals.  Behaviour consultations are available upon veterinary referral.  We work with owners to make an individual behaviour modification programme to suit their pet and keep in close contact to assist with any changes.  Some pet insurance companies cover behaviour consultations.
We run the 'Good Dog!' and 'Good Puppy!' courses, unique to Erica's practice.  We aim to teach owners and dogs to have a better understanding of each other, to avoid problems and to teach response to basic commands.  We also offer one-to-one training sessions either as and when needed or a set of three, and also rehabilitation sessions. Erica Peachey's Practice uses gentle, reward based training methods.  We cover the Wirral, Cheshire, Liverpool and the surrounding areas upon request.  Our dog and puppy training courses are held in Melrose Hall, Hoylake.
Meet the Team
Erica Peachey
Erica has a BSc (Hons) in Psychology and has worked at the Royal (Dick) School of Veterinary Studies in Edinburgh, as a Research Associate. She is a member of the both the Association of Pet Behaviour Counsellors and the Association of Pet Dog Trainers.  She is registered with the Animal Behaviour and Training Council as both a Clinical Animal Behaviourist and also an Animal Training Instructor.  Erica has written booklets and books which have sold worldwide, and has been an expert witness in many court cases where animals are at the centre of the controversy.  Erica is regularly contacted by the media and has appeared in newspapers and magazines and on radio and television, as well as providing and working with over 80 animals appearing in a comedy drama.  Erica gives talks, seminars and courses at venues around the country and abroad and is a Visiting Lecturer in Animal Behaviour at Liverpool John Moores University.
Kim Hope
Kim has a BSc (Hons) in Animal Behaviour and Welfare and an MSc in Clinical Animal Behaviour.  Her research focused on the behavioural advice sought by dog owners during veterinary consultations.
Kim is a provisional member of the Association of Pet Behaviour Counsellors and now works full time as Behaviour Advisor for the RSPCA.
Kim has a range of practical experience in training and behaviour, from volunteering with Pets as Therapy to an internship at Chester Zoological Society.  Her special interest is in one-to-one puppy and dog training and behaviour problems.  Kim regularly attends workshops and seminars held by behaviour experts.
Carri Westgarth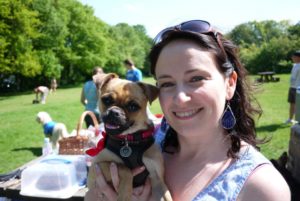 Carri is currently a Research Fellow studying Human-Animal Interactions at the University of Liverpool, specialising in the health benefits of the dog-owner relationship and dog bite prevention. She is also a Visiting Lecturer at Liverpool John Moores University, for their Animal Behaviour and Welfare Degree. Due to her current work demands, Carri is not presently seeing behaviour cases, but may sometimes be found teaching a puppy class or two!
Carri graduated from Liverpool University with a First Class BSc (Hons) in Zoology and Genetics in 2002. She completed her PhD at the University of Liverpool Veterinary School in 2008, her thesis entitled "Contact between dogs, and between dogs and people". Carri's PhD studies included attending the Animal Behaviour and Welfare degree honours year at the University of Bristol. This theoretical background combines with her wealth of practical experience in training a variety of dogs. Carri has particular experience training assistance dogs and rescue dogs, as she was an Instructor for Hearing Dogs for Deaf People and has also worked in an RSPCA Animal Centre.
Carri is a Full Member of the Association of Pet Behaviour Counsellors and is author of "The Happy Dog Owner"